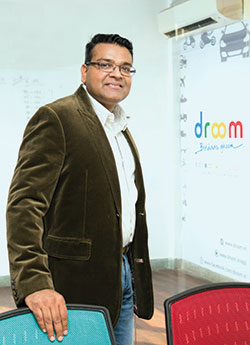 Droom is India's first marketplace for automobiles. How did the idea of Droom come about?
One of the most initial thoughts was to bring transparency for a marketplace which is niche for automobiles. In India buying and selling used automobiles is completely broken and full of pitfalls. Thereafter, I came up with 52 ideas at Silicon Valley, each one of them I thought would make a billion-dollar company in India. Then I compared those ideas on around about three dozen parameters. After comparing and filtering them, I was left with just two ideas and eventually Droom made it to the final decision.
From an aircraft worth about Rs. 64 lakhs to a bike worth Rs. 3,500, everything is available on Droom. How does Droom manage such a wide business horizon?
Droom aims to benefit its consumers through great experiences. We also believe that this is a time for the evolution of the automobile sector in India as it is getting more organized. Also, we want to bring forth the idea that automobile should not be limited to just wheeled vehicles.
For example, there are two aircraft that are available for sale on Droom: a Legacy 600 for INR 64.52 crore and Hawker 900 XP for INR 45.99 crore. At the other end of the spectrum, it also markets two-wheelers: the cheapest, a Hercules Sparx 24-inches bicycle, costs INR 3,900.
With this widening business horizon, end-to-end facilitator Droom is all set to raise another up funding in the near future to fund its expansion plans in six South-East Asian countries and Europe in the next two years. Founded in April 2014 in Silicon Valley, Droom came to Gurgaon in India in 2015, funded by some leading global venture investors, raising INR 130 crore so far. In the last 16 months, we have roped in 41,000 automobile dealers with 1.5 lakh listing of vehicles, having a total value of INR 2,500 crore.
How comfortable are Indians with online automobile transactions? What about aircraft transactions?
Automobile freaks are heavily relying on online marketplaces for purchasing vehicles. The trends are very visible and super strong. We sold vehicles worth INR 5 Lacs in January 2015, our first month of revenue and we reached INR 15 crores in automobile transactional revenue in July 2015.
We have grown 300 times (not 300%) in seven months. And this is as strong a trend as it can get in support of evaluating the traction for Droom as India's first marketplace for automobiles. We have sold vehicles worth INR 50 crores in the last seven months. At present, we are witnessing a low number of aircraft transactions but with the changing lifestyles of the country's urban population, the aircraft transactions are expected to catch up fast.
Today, Droom has the largest geographical footprint, with its presence in 145 cities across India. How did you achieve so much so soon considering you started the Indian operations in 2015?
We have grown 300 times in 7 months and the reason for this growth is that unlike other offerings online that spend way too much money on marketing, we are solving pain points for buyers and sellers. The used automobile business suffers from trust and pricing issues for buyers and we are solving those problems with the use of technology and data sciences in a way that has not been done before. We are solving them fundamentally and that is the reason we are being rewarded by the overwhelming response of our offering by both buyers and sellers.