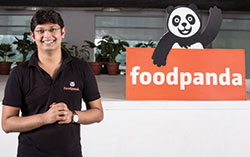 When you took over foodpanda, what were the biggest challenges you faced and how did you resolve them?
When I joined foodpanda, we had just gone through two acquisitions – JustEast and TastyKhana. The biggest challenge was to ensure a seamless integration of the system, processes and the three teams. We had to redefine how we went ahead in terms of people, process and product, and find what's the right model and right processes. There was obviously some value in what people had followed in nine years versus what we had done in two years. The integrations brought us scale, reach and matured processes.
Being the pioneers and leaders of the food aggregator industry, we encountered situations first and had to adapt and find solutions keeping customer experience at the core. Post the new management coming in place, we heavily invested our resources into processes and technology and also took steps to become sustainable and profitable within the targeted timeline. We made several technological innovations, for example, we built a proprietary data warehouse which makes all type of analysis and reports automatic. We built a point of sale system for restaurants which makes order transmission and menu updates automatic. We have built an automatic campaign tool for our marketing as well.
'Growth over profits' seemed to be the mantra for all the big players in India. Your comments?
India is a very challenging yet rapidly growing market. I believe, more than growth, it is important to examine and stabilize operations and processes. Once that is done, then the growth and profits will follow. Secondly, it is important for every company to pick up the right opportunities wherein they can grow and achieve profitability. In the same way in which we are building for the shift from offline ordering (by calling restaurants) to online ordering (through foodpanda's app), we are also focused on resolving all offline processes from within the organization. I'm very happy about what has been achieved in India towards a higher automation of the business.
Indians love food. The variety of food available across India is mind boggling. What are the unique challenges that a food delivery company is most likely to face in India?
Geographical diversity definitely serves as a challenge and the best example is our delivery system. Singapore, for example, has a pin code for a set of four houses. India has one pin code across four hundred thousand people. People somehow fail to understand the complexity of what goes on behind the scenes. The front-end is seemingly similar but the engine is very different. The challenges on the ground are far bigger than anyone can imagine. We face issues from mindset to infrastructure to capabilities when it comes to automating each and every restaurant. Mapping technology to locate restaurants and people is a challenge in setting up a delivery network in such a market. 99% of the food ordering market in India is still offline, only a small fraction is online. It's our constant endeavor to move that offline user base to online.
What are foodpanda's plans for the coming year?
We are very excited for foodpanda's future in India and have laid a very strong foundation for our business which has grown over 10 times last year and will continue to rapidly grow this year as well. This year, we aim at providing value through delivering quality, reliability and seamless experience as well as timely deliveries to our customers and partners. We are focused on building scalable revenues and capabilities with a long-term goal.