IT GIANTS
THE 4PS B&M LIST OF INDIA'S TOP 100 IT GIANTS!



SFO Technologies
SFO Technologies, which operates in the Healthcare, Telecom, Industrial and Energy and Transportation sectors, aims to offer a comprehensive solution in design, engineering, software development and Electronic Manufacturing Services. SFO Technologies has hardware and software facilities adhering to world class standards, spread across Trivandrum, Cochin, Bangalore and Mysore in India and in the USA. SFO Technologies is the flagship company of the 300 million dollar NeST Group of companies with more than 4000 employees. SFO Technologies has a very robust R&D center which aims at synchronized design between competencies thus ensuring a smooth and hassle free experience for clients.
Spanco Ltd
Spanco has been an active player in creation of technology infrastructure for over a decade and today ranks amongst the best in India. It has presence across India and provides high quality, cost effective scalable technology infra solutions with more than 15,000 employees working across four continents. Spanco caters to large complex technology infrastructure projects across Government, Power, Transport and Telecom Service Provider's space. They also have a formidable presence in the BPO space catering to India, US, Europe and African markets. Spanco is empanelled as a system integrator with Power Finance Corporation (PFC) and is aggressively participating in modernization programs like Restructured Accelerated Power Development and Reforms Programme (RAPDRP) and Distribution Franchise (DF).
Sify Technologies
Sify (formerly Satyam Infoway Ltd.) a subsidiary of Satyam Computers before being sold to Infinity Capital Ventures is an Indian information and communications technology company. Established in 1995 at Chennai, Sify played an important role during the early spread of Internet and e-commerce in India. Sify used to run the' i-way' chain of Internet cafes; by August 2003 it had over 1,000 cafes in India. In December 2003, Sify launched video-conferencing facilities in its Internet cafes. Sify became the first ICT Company in India to own a submarine cable landing station in Mumbai with connectivity on both east-and-west sea corridors in 2012. They are pioneers in providing multi-city carrier-neutral Data Center hosting with 6 Tier II and 15 Tier II Data Centers.
Sonata Software Limited
Sonata Software Limited is a global IT Services company, that provides services in business intelligence and analytics, application development management (ADM), mobility, cloud, social media, testing, enterprise services (ERP and CRM) offering infrastructure management services. Founded in 1986 as the IT division of Indian Organic Chemicals, headquartered in Bangalore, the company created an independent identity in 1994 and went public in 1998. Sonata services are focused on helping clients make an impact on business and drive value through IT.
Supertron Electronics
Supertron Electronics Pvt Ltd is a leading Information Technology and Telecom company of India and among the country's ten largest IT product distribution intermediaries. Established in 1993 in Kolkata by Mr. V.K. Bhandari, the company's flagship business is the distribution of a wide variety of IT products including Servers, Desktops, Laptops, Netbooks, PC components, Peripherals, Storage products of international vendors like AMD Firepro, Corsair, Sapphire etc.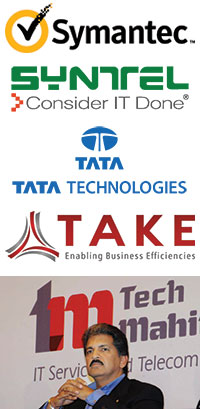 Symantec India
Founded in 1982 by Gary Hendrix with a National Science Foundation grant, Symantec was originally focused on artificial intelligence-related projects, including a database program. It is an American technology company headquartered in Mountain View, California, United States. The company produces software for security, storage, backup and availability - and offers professional services to support its software. The name Symantec represents a combination of the words "syntax" and "semantics".
Syntel
Syntel, Inc. is a U.S.-based multinational provider of integrated technology and business services founded in 1980 by Bharat Desai, Neerja Sethi, headquartered in Troy, Michigan. Syntel services its clients through 17 global development centers in India and the United States. Syntel is the global leader in digital modernization services, with a core suite of automation-driven IT and knowledge process services. Syntel believes in a "Customer for Life" philosophy to build collaborative partnerships and creates long-term business value for its clients by investing in IP, solutions and industry-focused delivery teams with deep domain knowledge. Syntel India managed to source Rs. 5,586 crores revenues with steady growth.
Tata Technologies Limited
Tata Technologies Limited is a Tata Group subsidiary that provides services in engineering and design, product lifecycle management; manufacturing, product development, and IT service management to automotive and aerospace original equipment manufacturers and their suppliers. The company was founded in 1989 and now operates in 14 countries, with a combined global work force of more than 8,000 employees. The IT consulting firm is active in North America, Europe, the Middle East and the Asia Pacific region. Tata Technologies personifies the value systems of the Tata group, ensuring ethical commitment towards the society while driving services to world-class standards.
TAKE Solutions
TAKE is a global technology solutions and service provider, with significant focus across two principal business areas – Life Sciences and Supply Chain Management. Started in the year 2000, TAKE has grown exponentially over the decade and is today represented by over 1000 employees catering to more than 400 marquee clients operating through 13 offices across 8 countries. With its global headquarters located at Chennai, India and US headquarters at Princeton, NJ, TAKE makes its global presence felt through its well-established offices across North America, European Union, Asia Pacific, Middle-East and South-East Asia.
Tech Mahindra Limited
Tech Mahindra Limited (earlier Mahindra British Telecom- MBT) a part of the Mahindra Group founded by Anand Mahindra in 1986 is an Indian IT multinational headquartered in Pune, Maharashtra. Tech Mahindra won the bid for Satyam Computer Services when the former collapsed in 2009, making it one of the largest merger deals in India's tech industry, uplifting it from the dismal situation. It was initially rebranded as Mahindra Satyam and finally merged with Tech Mahindra in 2013. It operates in information technology, networking technology and BPO spaces. Tech Mahindra is a $4 billion company with over 1, 05,400 professionals.