IT GIANTS
THE 4PS B&M LIST OF INDIA'S TOP 100 IT GIANTS!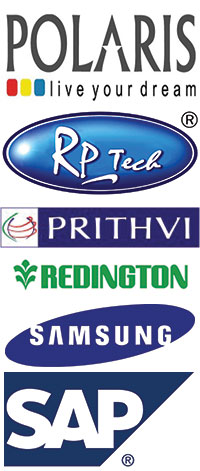 Polaris Consulting & Services
Polaris Consulting and Services Ltd incorporated in 1993 is a provider of financial technology products, legacy modernization services and consulting for core banking, corporate banking, wealth and asset management and insurance. In April 2013, Polaris launched its 8012 FT Design Center – the world's first Center dedicated to Financial Technology. Nalanda, the corporate university of Polaris, is aimed at bringing the core of organizational processes together through learning and development initiatives that would empower associates.
Rashi Peripherals
"Adding Value beyond Logistics" is what Rashi Peripherals works towards emerging to be one of the leading value added distributors in the country with 27 years of presence in IT Distribution. Today, Rashi has 53 branches offices and 56 service centres spread across Tier I, II and III cities of India and more than 9000 Partners in 750 cities. Rashi's distribution brands comprise world leaders like AMD, APC, Apple, Asus, Google, HP, INTEL, LogiTech, Lenovo, NVIDIA, SanDisk and Toshiba . Established in the year 1989, Rashi has come a long way in distribution and is amongst the top 5 IT distributors in India tapping Rs. 2,984 crores revenues in 2014-15 with an amazing 36% growth.
Prithvi Information Solutions Ltd
Prithvi is an Information Technology Consulting and Solutions company focused on providing state-of the-art technology solutions to challenges in today's rapidly changing business environment headquartered in Hyderabad, India and their US head office located in Seattle. Prithvi is a fully integrated organization, providing product and application development, customization and integration services. They offer a wide range of services from consulting to comprehensive project implementation and end to end solutions for customers across the globe.
Redington India
Redington commenced its Indian operations in 1993 and is today positioned as the largest Supply Chain Solution Provider in emerging markets. With its corporate office in Chennai, it has 42 sales locations across India. Redington provides end-to-end supply chain solutions for all categories of Information Technology products like Desktops, networking, software and enterprise solution products along with Consumer and Lifestyle products to over 100 international brands. Over 1300 highly skilled and committed professionals help Redigton India deliver its products and services to farthest corner of the country.
Samsung India
Samsung founded by Lee Byung-chul in 1938 is one of the world's biggest business conglomerates operating across borders in multiple domains. Through innovative, reliable products and services, talented personnel and global presence having collaboration with strategic partners and customers spread across the globe, Samsung is taking the world in imaginative new directions. From humble beginnings as a small trading company, Samsung is present in every second household.
SAP India
IBM engineers Dietmar Hopp, Klaus Tschira, Hans-Werner Hector, Hasso Plattner and Claus Wellenreuther founded "System Analysis and Program Development" (SAP) in June 1970 headquartered in Walldorf, Baden-Württemberg, Germany, with regional offices in 130 countries. Today SAP is undoubtedly at the centre of the technology revolution in the fast paced dynamic business world. Being the market leader in enterprise application software, SAP helps organizations mitigate the adverse effects of complexity to create new opportunities for innovation and growth. The company has over 293,500 clients in 190 countries.
Ricoh India
Ricoh is a global technology company specializing in office imaging equipment, production print solutions, document management systems and IT services. Headquartered in Tokyo, the Ricoh Group operates in about 200 countries and regions. Ricoh operates through a robust network of 24 offices, and over 2500 dealers and business associates spread across the country. The Ricoh Group has sales and support, production, and research and development operations in nearly 180 countries. It is a market leader in Office Printers, Digital Duplicators, Production Printers, Projection systems and video conferencing solutions and related software technologies.
RMSI India
RMSI develops innovative solutions that integrate geographic information with niche business applications. RMSI's success is hidden in their unparalleled domain expertise, and unique application of geospatial technologies. RMSI is a global IT services company providing geospatial and software services to clients across the globe, in sectors ranging from utilities, wireless telecommunications, land information management, agriculture & natural resources, and risk and insurance.
Savex Computers
Savex Technologies Private Limited, a Rs. 4,000 crore IT company founded by Mr. Anil Jagasia, headquartered in Mumbai, has 72 sales offices across the length and breadth of India catering to 6,000 IT resellers across India and is the third largest Information and Communication Technology (I.C.T.) distributor in India. With a pan India presence built over two decades of expertise in distribution, Savex offers its vendors access to more than 7000 Channel Partners, Retailers, Corporate Resellers, VARs and System Integrators. Savex has always strived to continually discover new ways to take costs out of the supply chain and has continuously improved its business processes.
Rolta India
Rolta is an Indian company for CAD, CAM, business intelligence and big data solutions, geographic information system (GIS) solutions, EBusiness and related services established in 1989 by Kamal K. Singh, headquartered in Mumbai. Rolta helps organizations gain valuable business insights and provides dynamic technology solutions for various verticals including Federal and State Governments, Defense and Homeland Security, Utilities, Process, Power, Financial Services, Manufacturing, Retail, and Healthcare. Rolta has executed projects in over 40 countries. It employs around 2000 workers in India and international subsidiaries. It employs around 2000 workers in India and international subsidiaries.
Seagate India
Seagate Technology PLC is an American data storage company incorporated in 1978 as Shugart Technology. Since 2010, the company is incorporated in Dublin, Ireland, with operational headquarters in Cupertino, California, United States. Seagate was a major supplier in the microcomputer market during the 1980s, today dominates the HDD market. In 1989, Seagate acquired Control Data Corporation's Imprimis division. It also acquired Conner Peripherals in 1996, Maxtor in 2006, and Samsung's HDD business in 2011. Seagate is the global leader in data storage solutions, developing amazing products that enable people and businesses.