IT GIANTS
THE 4PS B&M LIST OF INDIA'S TOP 100 IT GIANTS!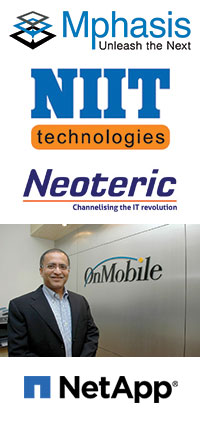 Mphasis
Mphasis is a leading IT solutions provider, catering to financial services, telecom, logistics, and technology industries based in Bangalore, India. It offers Applications, Business Process Outsourcing and Infrastructure services globally through a combination of technology knowhow, domain and process expertise. Mphasis was formed in June 2000 after the merger of the US-based IT consulting company MphasiS Corporation and the Indian IT services company BFL Software Limited owned by The Blackstone Group L.P. Over the years Mphasis has marked an indelible impression in the IT solutions domain with rich portfolio of clientele.
NIIT Technologies Limited
NIIT Technologies Limited is an IT organization founded in 2004 by Rajendra S. Pawar and Vijay K. Thadani, with its clients spread across the globe in North America, Europe, Asia and Australia. NIIT offers a range of services, including Application Development and Maintenance, Infrastructure Management, and Business Process Management. Focused on Digital Services, the company is helping businesses design agile, scalable, and digital operating models. NIIT Technologies services clients in travel and transportation, banking and financial services, insurance, manufacturing, and media verticals.
Neoteric Infomatique
One of India's leading national value-added distributors in the IT space, Neoteric infomatique Ltd was established in 1991 by Paras Harshad Shah an alumnus of Case Western Reserve University, USA. Over the years, with passion, foresight and unflinching determination to provide the best quality IT products and services to Indian customers, Neoteric has emerged as one of the most respected IT distribution organizations, covering over 50 cities in India and with expertise built around multiple verticals.
OnMobile Global
OnMobile was founded in 2000, originally incorporated in California under the name Onscan Technologies India Private Limited as a spin-off from Infosys. Currently, it is headquartered in Bangalore and serves customers in 59 countries and is one of the top companies operating in the telecom value-added services space. It has collaborated with a series of internationally renowned mobile operators. The company offers content management, content aggregation and distribution, voice short codes, missed call alerts, multimedia push services, mobile search, ringtones, voice portals, music products, mobile radio, entertainment products like football, cricket, quizzes etc.
NetApp India
Throughout the world, leading organizations count on NetApp for software, systems, and services to manage and store their data. The leading IT firm helps enterprises and service providers envision, deploy, and evolve their IT environments. Customers also benefit from NetApp's open collaboration with other technology leaders to create specific solutions. 20 years on, NetApp is still delivering innovation that gives clients an edge over competitors. It helps customers do things that have not been done before. Together with a global network of partners, NetApp deals with complexity to help customers achieve the outcomes that are simple and matter the most.
Oracle India
Ellison co-founded Oracle Corporation in 1977 with Bob Miner and Ed Oates under the name Software Development Laboratories (SDL), headquartered in Redwood City, California United States. Oracle is a world leader in development of database software and technology, cloud engineered systems and enterprise software products. The company also develops and builds tools for systems of middle-tier software, enterprise resource planning, customer relationship management and supply chain management software. In 2011 Oracle was the second-largest software maker by revenue, after Microsoft. Oracle India reported Rs. 12,440 Crore revenues in 2014-15 marking 9% growth. With hundreds of thousands of customers, Oracle is a part of the global tech-future.
NIIT Limited
NIIT was established in 1985 by Rajendra S. Pawar and Vijay K. Thadani, graduates from IIT Delhi. NIIT Limited is an Indian Multinational company that offers learning management and training delivery solutions to corporations. IT services business of NIIT was demerged into a separately listed company NIIT Technologies in 2006 helping NIIT Limited focuses on Corporate Training, Vocational Training for Services Sectors and Education and Training in Schools. NIIT introduced a franchising model in IT education for the very first time in India. NIIT is a global leader in Skills and Talent Development offers multi-disciplinary learning management and training delivery solutions to corporations, institutions, and individuals in over 40 countries.
R Systems International Limited
R Systems International Limited, founded by Satinder Singh Rekhi in 1993, is a software and information technology services company and Business Process Outsourcing services provider headquartered at Noida, India. The company provides software development and maintenance support to Fortune 1000 clients and medium-sized businesses. A specialized IT Services and Solutions and IT-enabled Services provider, it caters to a wide range of global customers and covers five major verticals.
Persistent Systems
Persistent Systems is a technology services company which was incorporated on May 30, 1990, becoming a public limited company on September 17, 2010 with the name Persistent Systems Limited. Persistent has facilities in three continents, with nine development centers in Europe (Grenoble), America and Asia. In India, Persistent operates from Pune and houses teams of development engineers in three facilities, named Bhageerath, Pingala-Aryabhata and Hinjewadi (known as Veda Complex, which consists of 4 towers named as Atharavaved, Samved, Yajurved & Rugved), other offices are spread across Nagpur, Goa, Hyderabad and Bangalore. Persistent earned revenues of Rs. 1,882 crores in FY 2014-15.
Pitney Bowes Software India
Pitney Bowes Inc. is a global technology company offering innovative products and solutions that enable commerce in the areas of customer information management, location intelligence, customer engagement, shipping and mailing, and global ecommerce. More than 1.5 million clients in approximately 100 countries around the world rely on products, solutions and services from Pitney Bowes. Based in Stamford, Connecticut, the company has approximately 16,100 employees worldwide. At Pitney Bowes, tech experts team thrive on helping clients succeed.