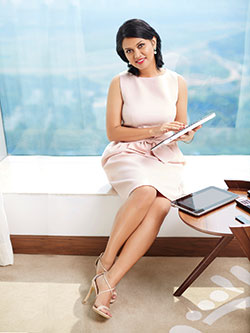 Rajita Chaudhuri caught up with the dynamic, iconoclastic and confident, young CEO of Vu TV to get an insight into her world and her views on the changing role of women in today's corporate world
A smart CEO of a smart TV brand. Has being a woman been difficult in the technology space considering the fact that worldwide there are very few female CEOs in this sector?
Not really. It is an industry of intelligent and educated people and most of the people are thorough professionals, so it is a good corporate environment with focus on individual competence and merit. And if you are focused and knowledgeable, people will respect you irrespective of age or gender.
You have been a columnist with The Wall Street Journal, apart from being a trained Odissi dancer and having a 3rd term teacher's diploma in Ikebana from the Ohara School Japan; you have formally learnt jewelry designing from the Indo-American Institute of Design and Fine Jewelry and are an avid speaker, apart form having been appointed on the advisory board of the Viterbi School of Engineering. How do you do so much? What is the secret of your time management skills?
I use my personal time well on building my talents, improving my health or learning from other achievers. You have to plan your lean time as well as your work time, so you don't end up wasting precious hours in the day.
From modeling your TV (you have designed the interior of your smart TVs) to modeling for your TV brand, you have done it all. How did the idea of being your company's brand ambassador come about?
The brand 'Vu' stands for luxury, quality, youth and innovation. Starting out Vu at age 24 after having studied at Harvard and USC, and hailing from one of the pioneering family businesses in tech, my team felt I was the correct representation of these brand values and therefore I decided to model for the brand. However, an old associate told me that I shouldn't model for Vu (the way Branson and Zuckerberg are the face of their business) because I am not a man and I am not a foreigner. This made me realize how much we undervalue ourselves as Indians and as women, and it drove me to be the public face of my company. Why should a male actor, who is 20 years older than me, be representative of my business and my generation?
You are one of the most fashionable CEOs of the Indian corporate world. How would you define your essential fashion style?
The key is to enhance your image and re-invent every few years. Earlier, women wore button down shirts because they wanted to dress like men and merge into the environment at work. Today, you can wear a dress and still be seen as a woman professional. Of course, I do have a stylist [Ami Patel] who keeps my fashion on point.
You are a fabulous speaker and have spoken in many forums. It's said that great leaders are great speakers and great readers. What is the role of communication in leading a team?
Communication portrays confidence and trust. We often vote for the best speaker in politics but the follow-up is more important. So when I communicate, I try and bring personal examples in my speech to endorse my opinion. It is a system of gestalt and it allows you to connect with your audience so that they feel like everything you say is relevant to their lives and their work.