SQUARE YARD
HOW MANY FEET IN A SQUARE YARD?
THE HUSBAND-WIFE CO-FOUNDING DUO OF TANUJ SHORI AND KANIKA GUPTA HAVE MADE SQUARE YARDS INDIA'S TOP RESIDENTIAL ESTATE DISTRIBUTOR; 4PS B&M MEETS UP WITH THEM TO FIND OUT HOW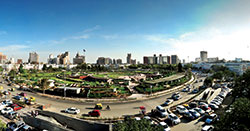 4Ps B&M: How do you define your core service?
Tanuj: We are India's largest real estate aggregator and distributor. Now, how we are building it up? We are amalgamating various verticals. We started by building a purely offline direct-sales business; that was the starting point. We started it in one city and replicated it in other cities. What we did differently is that we went to NRI markets and started replicating the sales model in those markets. Although we had a unique model, we were then still small. Concurrently, we recognized that growth could not come purely imagining of this as a scale business. Then we started introducing technology and that is the time when acquisitions came along. You have to understand that 90 odd percent of the real estate market is driven by brokers. With the real estate industry not being transparent and there being no bill in place, we can't expect to replace this 90% of the market. This is similar to the cab space in India, with a majority of players being unorganized. That's why we decided to do in this industry what Ola did with the cab industry. We're enabling the brokers to make faster money, more money, and efficient money. So it's a real estate aggregation model, starting with Indian real estate, extending to international real estate, which has been extended further to mortgage. Now, we are setting up new verticals like portfolio management services and facility management services. To put it this way, I believe there are 36 boxes which need to be ticked in real estate, and we have scratched only one box. How would you see Square Yards three years down the line? We would have a very dominant market share in any value chain related to real estate – whether it be mortgage, real estate investment, land acquisition, NRI segment sales or related global sales.
4Ps B&M: Your focus on NRI markets is unique. What are your other differentiators from the competitors?
Tanuj: Scale. I will still say that the best answer is scale. I think in any industry, any sector, the best way to get bargaining power is scale. Unless we have scale, we are not entertained across the table; at the same time, if we have scale, we can enjoy bargaining power. What we did different from other players is that we went berserk when it came to growth, we did not hold back. We didn't put any rule that we'll focus on a new city only after handling one city. The reason why we did that is because every city has multiple micromarkets – also, what happens in Gurgaon does not drive what happens in Mumbai, and what happens in Mumbai does not drive what happens in Bangalore. So we expanded in one big leap; and this also helped us diversify the management risk. Honestly speaking, we pretty much ran the same business model that our competitors were running. We just did it on a far larger, far more differentiated and far more faster scale.
4Ps B&M: How is it that you could do it and they could not?
Tanuj: Organizations are built, organizations are broken, but not around capital, not around technology – it's all about people. Capital is a commodity. You give $20 mn in the hand of five people and how they handle it is basically a function of how they want to spend it. Effectively, it all boils down to people. Like Kanika pointed out, the sixteen of us haven't taken a holiday in the last one year. And when you have people who are so passionate running their verticals, trying to make them successful, it becomes almost like a combination of 16 startups. I think that's why we are a powerhouse.
Kanika: We scaled up both vertically and horizontally. There are verticals which we could start at the same time, something that would be difficult for any startup to do. For example, we have simultaneously started our India plans, and at the same time, we scaled up in the commercial sector and in the NRI business arena; we are also engaging a space called International Project Marketing (IPM) that is bringing global properties to India, which nobody is doing currently.
4Ps B&M: Can you tell us something more about IPM?
Tanuj: Eventually, India is India and the globe is the globe. Our belief is that we won't get into any vertical where we can't be a leading player in 12 months. We first thought about getting into wealth management, but we didn't. It's similar with secondary resale and rental. It is a massive market. Do we want a share of that market? Yes. Are we best placed amongst the industry incumbents to do that? Yes. Why are we then not doing that? Because, we do not have the right business model yet. But when we cracked the IPM code, the primary code, it applied everywhere. It applies here, it applies in Dubai, it applies in London, it applies in Australia. So we started Dubai as a test case a few months back. Today, we are seeing massive results. IPM now contributes 10% to the revenue and its doubling up every month. So, in the next three years, more than 50% of our business revenues will be non-India.
4Ps B&M: You did not go for institutional investors initially. Why was that?
Tanuj: There's a reason behind that. To understand that, you have to know that we also take wrong decisions. But as long as we get seven out of ten decisions right and as long as we have the agility to repair the wrong decisions and make it right, it's alright. So that was the basic reason due to which we did not want an institutional investor on our board for some time. Then we started looking for alternative sources of capital. We structured our products as such in terms of convertible instruments. We raised $15 mn from the market, mostly retail clients spread over 50 odd people, all personal contacts. When we reached a sizeable scale about six months back , then we started reaching out to institutional investors and very soon, we should see a big deal. I have always believed that if you have the right business model and the right economics at heart, investors would come automatically. I am again the kind of entrepreneur who strongly believes that business should not be built on traffic, or with the belief that we shall earn 25 years later. The main job of a business is to make money. It may make more money, it may make less money, or it may be at a stage where it may make money at double the scale, but a business model should know how to make money.