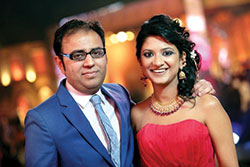 4Ps B&M: How did you think of starting Square Yards?
Tanuj Shori: I'm an investment banker and Kanika had done her stints with the wealth management industry, apart from Bollywood & modeling before we moved to Singapore. So there was a point of time where she wanted to start an entrepreneurial venture, and I started more as an investor. So how did Square Yards and real estate come along? We used to invest heavily in personal capacity into real estate. We had a portfolio of products not just in India, but globally too. But every time we went and invested something specifically in India, a big pain area was that there was not a single professional who could sit across the table and tell us what we wanted and what we did not want, lesser so in terms of numbers, in terms of accurate market trends and so on and so forth; people were just blindly telling us that the market doubled in the last four years and will double in the coming four years. That's when we realised there was significant need for an intelligent, number- and process-driven player in this market.
Kanika Gupta: Another front where we felt there was a dire need for professionalism was client servicing. This was one of the areas that had a very big gap. As Tanuj says, whenever we wanted to reach out to developers for inputs on various fronts, there was nobody to help us and guide us through even the transaction cycle.
4Ps B&M: How did you think of the name Square Yards?
Kanika: The first thing that comes to anyone's mind when they go for purchasing a property is how many square yards is the area. So I would say that the name was purely intuitive.
4Ps B&M: But why go online? Did you feel there was a gap in the industry with respect to online presence of players?
Tanuj: Online was never actually a prime focus for us. We thought of online only as a supportive platform at that point in time. That was simply a starting point. When we thought about the idea, we both came to India, spent a few months here and met some industry players like IndiaHomes, Housing.com, Investor's Clinic, and others. Every day that we spent here, our conviction grew that this is the sector where fortunately or unfortunately no one has tried to build a truly professional organization. No middleman has tried to build an organization. Anywhere in the developed world, in any industry whatsoever, manufacturers have a role to play, distributors have a role to play and clients too have a role to play. But in India, because no one ever attains scale, manufacturers (builders and developers) themselves were distributors. Developers were selling 70% of the stock either themselves or mostly through the unorganized market. But there was no B2B platform or an organization to organization platform present.
4Ps B&M: Real estate is not recognized as an industry in India. In such a case, would not establishing something organized be tough?
Tanuj: I would say it is the opposite; as no one has done it before, it becomes far easier for us. One could get the right talent as one is the only organized choice in the industry. You can also say that being organized would provide one with a significant amount of bargaining power with developers. The entire sector being fragmented, disoriented, disorganized has been a big opportunity; and we still haven't done anything noticeable out of that. What we have is simply a 2% market share!