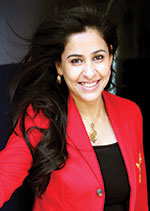 The times are changing and so is the customer. The culprits are technology and the Internet. Thanks to them, things are changing at breakneck speed for marketers as the Internet and the technological revolution has made the consumer want more and more and there seems to be no stopping.
In the early days, it was all about identifying the needs and wants of the consumer and trying to satisfy those needs with the right product. That product was then wrapped around an alluring message highlighting the benefits of the product and how it would change the life of the buyer. That's all changed now. Today, it's no more just about the product, its benefits and the branding message; it's about the ability of the brand to connect with the consumer, to build a lasting relationship with the consumer. And that has become a difficult task for the consumer of today is insatiable and 'maange more' before he trusts you with his loyalty.
CONSUMER MAANGE MORE VALUE
Marketing was all about building a brand and giving people value for money. That's not enough today. The consumer of today wants more than just 'value for money'. He also wants to know what values you as a brand stand for. More than 80% of consumers believe that a good brand is one which places equal emphasis on both business profits and societal issues. Your brand should stand for a purpose beyond profits. It should have a purpose driven brand story. Responsible consumption is the buzz word today. With our world being plagued with problems like global warming, water scarcity, obesity etc., the consumers are becoming aware of the role companies and brands can play to make the world a better place. By supporting brands with a strong purpose, they feel they are doing their bit too to make the world happier, healthier, greener and cleaner.
Take the case of Kissan. It decided to source sustainably produced tomatoes, which not just differentiated the brand but soon made it the number one ketchup brand in India.
The Lifebuoy brand of soap ran a campaign called "Help a Child Reach Five", which focused on teaching children how to wash their hands correctly as India has the highest number of child deaths due to diarrhea and pneumonia. The brand developed a hand wash which could change its color from white to green in 10 seconds – just the time required to kill most of the germs. Children wait to see the color change, which is not just fun but life saving too! The brand showed its commitment to a purpose, a cause, and was loved for it.
Nike's "Find Your Greatness" campaign went beyond celebrity athletes and urged people to find greatness in everyday people. It struck a chord with the viewers and inspired them. Brands are moving on beyond just showing the benefits of their product.
Rin is a good old brand which for decades has promised 'Chamakti Safedi'. That's not enough to stay above competition. Rin has gone a step ahead. While clean clothes give you confidence, Rin has gone on and started a Rin Career Academy, training people in key skills which give them confidence. Skills like speaking good English, dressing appropriately for a job, handling an interview. Rin has shown that it is totally committed to building confidence. That's a purpose which goes beyond profits.