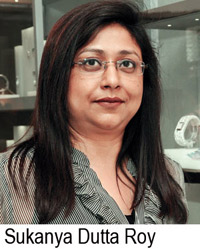 Ever since her inception as Director of Consumer Goods Business (CGB) of Austria-based crystal giant Swarovski, there has been no looking back for her. The lady with firm determination and strength, Sukanya Dutta Roy has a distinguished leadership strategy and is all set to glitter brightly.
Roy took over the companyís operations in 2008 and since then the brand never had to shut down any stores. With 23 stores in India, the company has been growing at 25 percent per annum. Swarovski is one of the very few luxury brands in India where almost all the stores are profitable. Unlike other luxury brands, this fanatically flamboyant lady does not believe in expanding aggressively and deliberately avoids opening stores in luxury malls. Prior to her appointment at Swarovski, she was associated with well-known retail firms and brands in India, and has credit of opening more than 20 retail stores till date.
Ever since you joined Swarovski you have been rolling out 10 stores on an average per year and yet you claim that you don't believe in aggressive expansion. So how would you like to explain your retail expansion strategy?

I deliberately avoided opening outlets in luxury malls like DLF Emporio because the rents are very high and putting the brand over there means closing the opportunity for upper middle class. Jewellery has emerged as the cash flow for the group and to enhance this cash flow more, we have forayed into menís jewellery also. And to cater to this group of target audience we needed to have presence in places where men come for shopping, so we started expanding our stores more.
Swarovski recently forayed into glares and perfumes. So with a diversified portfolio comes stiff competition; how you have strategized to manage these challenge?
Till now, we have been more into jewelleries. We have diversified only to widen our customer base across all groups and ages. Additionally, all of our boutiques are dealer led and dealer takes care about the right marketing of the product. Then I also think the legacy & expertise of the brand is strong enough, today thereís no other branded crystal product in the market apart from Swarovski. Our brand equity is strong enough to manage competition. And then unlike our competitors we have never believed on niche marketing and kept our products available for a wider group of customers.
The Indian luxury market is evincing a constant retail change in the post-slowdown era and luxury brands like Tag Heuer, Hugo Boss and several of their ilk are saying no to Exclusive Branded Outlets (EBO) and rather opting the Multi branded Outlet (MBO) route. Strangely we have never seen Swarovskiís presence in MBO. Why so?
The aura that a boutique can create would never be available in MBOs and then wherever we find our product has big competition, we do make such product available in MBOs also. For instance, our watches are available wherever other luxury brands are selling their watches. Then we are planning to expand our presence in cities like Ludhiana and Chandigarh and we have an extensive expansion plan of opening 60 stores by 2015. If we find that we are not able to open EBOs in tier II cities we would try out an MBO route with brands like Shoppers Stop.