Sometime back during the proceedings of a Leadership Summit organized by a Delhi based media house, the southern superhero Rajinikant was holding the centre stage. Someone from the audience asked him the inevitable: "Who is the greatest?" Without blinking an eyelid the reply was, Amitabh Bachchan. Gets up the Badshah of Bollywood, SRK, asks as to what does it takes to occupy the exalted position of Shahenshah. Perhaps the same question needs to be asked of the much venerated Infosys:
How does it reach the maximum of its potential?
The company was established in the 1981 with a seed capital of only Rs. 10,000. Now its revenues have grown to Rs. 27,000 crore. In 1999 it became the first Indian company to be listed on NASDAQ. The campus now spreads over 81 acres. Infosys and its 7 founders have represented the spirit of India's transformation in the post-liberalisation era. Its success did not owe anything to the government, it competed with the best across the globe and won, it shared wealth among its employees and shareholders, and it has set benchmarks for corporate governance and disclosure norms.
Competitors meanwhile have not sat idle nor the environment is anymore benign. Earlier TCS was considered a stodgy foe while Infosys was cool; visiting heads of states put Infosys campus on their itinerary. So Infosys acted like the bellweather for the entire industry. But now a new TCS is trying to take over under the leadership of N. Chandrasekharan. On the other hand Cognizant is baring its fangs to unseat Infosys from second position. And to add to the woes issues like slowing US and European economies, volatility in the rupee, severe competition, rising wages, high staff turnover, and management shake ups have been hampering growth. The company narrowly missed expectations in its first quarter profits, 2011-12.
Part of the reason for Infosys success over the last three decades have been the complementing roles that the team members had been playing. Murthy was the brilliant strategist and Nandan is a networker, Phaneesh was the star salesman while Gopalakrishnan and Shibulal took able care of the operations... But of late the mojo is wearing off.
MURTHY, THE MAVEN
The collective effort of the founders has helped propel the company. They have got a shot at the CEO position with only a 16% control over company's outstanding shares. Having said that, indubitably Murthy has always been the supremo, the soul of the company. He has been the main driving force. An admirer of JRD Tata, Bill Gates, and Hewlett and Packard himself, he has been an iconic figure leading a very normal middle class life. Despite being worth several thousand crores of rupees he follows an egalitarian workstyle, remains accessible to the lowliest employee, and has run the organization with a certain value system. Primarily it was Murthy's vision and business sense that has enabled the company reach where it is. Not only during good times, Murthy has been able to hold the company together during times of crisis as well, such as when the IPO almost devolved, Phaneesh Murthy had to be let go, Nandan had to be promoted ahead of Kris, or when the company faced the dotcom crash. His tenacity, hard work and extraordinary calibre have steered the company to the second position in the ranking of largest IT service exporters.
He has been able to build an organization where every employee seems to have unconditional trust in top management. Everyone is suffused with a quiet pride in the company and its achievements. It has followed the credo of doing the right things the right way. And Murthy has been the visible and most prominent representation of this principle. His early leftist belief coupled with a deep rooted Indian business tradition where workers are treated as part of the extended family has ensured that Infosys does not sack people nor do they leave it early.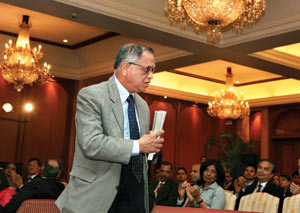 MURTHY BELIEVES IN
•
Leading by example
•
Ethical and legal dealings
•
Open and honest communication
•
Constant learning
•
Contextualising the issues
MURTHY, THE MEDIOCRE
But we have a different- somewhat controversial- hypothesis to offer. It is on account of Murthy's presence that the Badshah has not morphed into the Shahenshah. Murthy has been a catalyst, but in moderation. Let's rest our case.
While in the early years he took enormous risks, as soon as he stepped down as CEO the company stopped taking risks. Perhaps Murthy felt that it had become so successful that it had hit upon a recipe that could not be perfected any further. Or, maybe he felt that others who came after him did not have quite the same appetite for risk; so he discouraged them from doing so. For the matter of fact, Steve Jobs always dreamt of leading the industry through innovation and design. Infosys on the other hand started primarily as an outsourcing company doing application development and maintenance. It relied on Indian frugality. While Jobs was in a hurry for just about any venture he undertook, taking large and risky bets, Infosys has always been rather circumspect, trying to ensure with every bet that it does not fail. It has never believed in aggressive growth, focusing rather on profit margins.
It has never been aggressive, following in the footsteps of Murthy, always fighting shy of inorganic growth. For most part of its existence Infosys has remained a generic delivery outfit, but where the scope to increase price is rather limited. Cost is a non issue only for a client when a vendor justifies higher charges through unique value addition to client's business.
Infosys in fact has always been predictable about how it sets its business targets and delivers profits. A very small part of the revenue (8%) comes from products and platforms. Always being very slow and brooding, its global delivery model took 6-7 years to get there. The application development and maintenance component took 11 years to come down to 30% from 90%. During 1981-2008 Infosys did not file a single patent.
WHAT IS MISSING IN LEADERSHIP
Ambition:
No ambition to be the best in the world
Aggression:
No desire to change the rules of the game, or the game itself
Charisma:
Leadership by example, but no inspirational vision
Creativity:
No disruptive innovations
Drive:
Rational and reasonable goals, but not highly stretchable targets
One dare say therefore that Murthy led Infosys by transposing his own style on to the enterprise. Which meant lack of ambition, softness of style, absence of aggression and creativity. Remember, TCS is number one, Cognizant is fast catching, and IBM and Accenture are ever keen to snipe at the heels of Indian players.