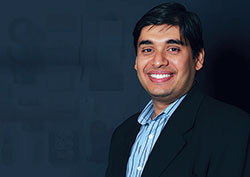 The Billionaire mindset: Don't be afraid!
Don't be afraid to dream big. Don't be afraid to fail big either. Don't be afraid of criticism. The whole world will tell you how it cannot be done, so relax. All you need to be sure of is that you want it to happen and you have to want it real bad. In fact, the easiest way to know that you have a great idea is when everybody says it won't work. Be sure you have hit the jackpot. All great ideas were called stupid at the start, but the people behind the idea never lost faith in themselves or their ideas and made it happen.
Don't be disheartened if you don't know how to make your idea happen. If you need to learn a particular skill – it's right there on Google. If you need to know how Harvard and MIT are handling a particular course – it's right there on edX for free. If you have acquired all knowledge and now need to make an app, a website etc, again you can access numerous resources on the Internet for free and make one at almost zero cost. Your prototype is ready, but now you need the funding. No worries. Just as the social media has changed the way we connect with friends, it has also changed the way we raise money for a business idea. The concept of 'crowd-funding' is growing in popularity and more and more entrepreneurs are reaching out to people on the social media platform to fund their ideas. Sites like Kickstarter, IndieGoGO, ProFounder, Buzzbnk, 33needs, AppBackr, CauseVox and numerous more have helped so many ideas come to life.
You don't have to be a technology giant to compete with Apple watches. The company Pebble proved that twice. Once in 2012, when they had an idea for a watch and went to the site Kickstarter with their idea. 85,000 people loved the idea and pledged money to help Pebble realize its dream. The company raised more than $10 million (10,000 percent of the goal). Then again in 2015, when they wanted to improve the features of the watch, they went to Kickstarter again looking for a funding of $50,000. In less than an hour, they could raise $1 million, and by the end of the campaign, they had got more than $20 million funding from numerous people across the net.
Hiral Sanghavi, a frequent flier, had the habit of forgetting his neck pillow on flights. So one day he and his wife Yoganshi Shah decided to develop a travel jacket that would have a neck pillow, an eye mask, gloves, blanket… everything. They went to Kickstarter looking for $20,000. They landed up with more than $9 million. From smart watches, to wireless headphones, to 3D printers… all kinds of ideas have found people who were interested in them and supported them.
As I said earlier, you don't need to be born with a silver spoon to make your big dreams come alive.