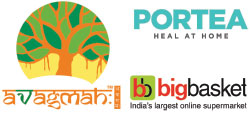 4Ps B&M: You are the golden couple of the Indian startups. Whatever you touch turns to gold! How do you choose where to invest? Is there something special that you look for in a startup or its founder?
KG: Like they say in mutual funds, past performance is not indicative of future returns. So, whatever has happened in the past to our one startup has no relevance to the next startup, because every startup is new and the jury is out on every startup; so till the time we monetize things, it's only work in progress.
Secondly, at GrowthStory, we don't just invest in companies; we become the promoters of the company. We start the company. We don't just look at a startup but we look at the next 5-10 years. We evaluate where are the open areas, where can we create value, where are the opportunities... the wide spaces where you can build brands and build valuable businesses. So we start with a thesis like that, we do some research on it, speak to people, and then the core founding team, along with some of the resources that have worked with us, spends 3-6 months doing pilot, pivoting, testing the market and all that.
Afterwards, after one has identified the right spaces, open areas, and for that area has obtained the right core founding team, free experiments, running/failing fast and doing pilots... and after all this work, go ahead with the business. So that is the formula that we have. It's worked out so far so well; but again, that has no importance because for us, each startup is a new story. Every entrepreneur in the morning is naked in front of the mirror, so there is no past that gets 100% carried into the future. It's like every test match is a new test match.
4Ps B&M: When you are not starting startups, what is it you are doing in your free time?
KG: I play tennis everyday. I'm a fan of tennis. Plus I like to spend time with my family. I don't party.
4Ps B&M: Your opinion on this whole concept of 'unicorns'.
KG: Unicorn is a creation of the media. During the early days, it got hyped up. From a purely startup ecosystem point of view, the positive aspect of unicorns is that it has shown that in India, it is possible to create a billion dollar company. Till two years back, one of the biggest question was "Can India have a billion dollar company?"
The world knew that US and China are big markets which can create big companies – but could India do the same? That question got answered by the unicorn status. That, I would say, is the only good part of it. Other than that, I don't think you as a consumer – whether you are buying from Flipkart or are taking an Ola – are not worried about the valuation of your service provider, whether it's $15 billion or $10 billion. Personally if you ask me is the valuation right – I don't know. It's a question of the buyer and seller in the ecosystem. Even if a unicorn is worth half whatever it was valued last, it's still a very valuable company, and more importantly, doing an extremely good job.
So I don't think we should get too much worried about the changes in valuation. We swing from one extreme of euphoria to the other extreme of gloom and doom. Personally, for me, it does not matter as long as they are there and delivering the services. Ultimately, for an entrepreneur, it's only monetization that matters.