ENTREPRENEUR SPEAK
THE COUPLE WITH THE MIDAS TOUCH
SERIAL ENTREPRENEUR AND PARTNER OF VENTURE BUILDER PLATFORM GROWTHSTORY.IN K. GANESH IN A CONVERSATION WITH RAJITA CHAUDHURI SHARES INSIGHTS ON HOW HE AND HIS WIFE MEENA ACHIEVED UNIQUELY SERIAL SUCCESSES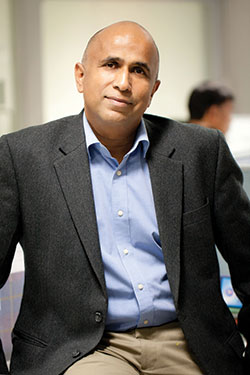 GrowthStory is one of India's largest startup platforms. How did it start? What is the vision behind it?
K. GANESH (KG): I would like to call GrowthStory a venture build up platform. We promote ventures under GrowthStory. BigBasket was the first company we invested in. After selling TutorVista to Pearsons for $213 million, we were looking at how to participate in the Indian startup scenario. Eventually, we came up with the idea of a 'parallel entrepreneurship', which basically is promoting greenfield ventures under our venture builder platform GrowthStory. BigBasket, as I said earlier, is the oldest; and then there are Bluestone, Portea, FreshMenu, Homelane etc. Primarily, these are direct-to-consumer companies and consumer internet companies, which address the 'roti-kapda-makaan', healthcare and education sectors and spaces.
4Ps B&M: You once said, "Where the government fails is where the new entrepreneurs should pitch in..."
KG: Yes, that's right. Basically, there are a lot of basic infrastructure – things like education and health care – which, in countries like Europe and USA, are taken care very well by the government. In India, unfortunately, the government and the public system for both education and health care are abysmal and inadequate and that's the opportunity for entrepreneurs to do startups in those spaces. The same principal is involved in startups like BigBasket and Portea. In an evolved economy, you do not need so much of logistics and delivery kind of solutions, whereas in India, you need it because infrastructure is inadequate. Also, it gives entrepreneurs an opportunity to start without really being transformational geniuses. You don't have to be extremely innovative or a genius to start something here in India, whereas in places like USA or Europe, where the basic problems have already been solved and done with, it's a much tougher game to start with something. In India, there are still so many basic problems to be taken care of, so many challenges, so much that needs to be done to build the basic existing ecosystem.
4Ps B&M: Disrupters are the new entrepreneurs. In fact, Portea is in itself a disrupter in the health care space. It literally shook up the whole health care segment by bringing medical assistance right to door step to the common man.
KG: I think that's a slightly exaggerated view (laughing). In India, tertiary care is of world-class standards because of world-class doctors, hospitals, latest medical equipment available in hospitals; so, if you take Medanta, Manipal, Fortis, Max, any of those, you have world-class facilities. But outside tertiary care, there is a complete vacuum, complete as in zero – there is no organized player, no branded player, where you can get things like physiotherapist at home or a nurse, a nursing attendant, or a doctor/GP coming home or a place to get medical equipment at home. It's completely unorganized.
So, I would not say disruption; I would rather term it as identifying a virgin market, an open space, and moving into it very fast with scale and technology and capital. That, basically, is the Portea model, a first-mover model. In terms of size and scale, in India, the entire health care market is about $80 billion; out of which $40 billion is related to tertiary care, inside hospital and hospitalization treatment. For the remaining 50%, there was no player.
Take the case of Big Basket – I won't really call it innovation. We are buying the same grocery and delivering it home, but if I use technology correctly to the last mile, use analytics, it's a better way of doing the same thing. So, it's not rocket science; it's really all about finding an opportunity. The simplest way is just look around you and see where the challenges are and build up a framework around it. Whether it's Flipkart, or Big Basket or Portea, all have been based on this simple model about identifying challenges.
The second thing that makes us really bullish at GrowthStory is our ability to build brands in India. In India, you don't really have brands. You have high-end brands but we don't have any brands at the non-higher-end segment, the day to day segment. For example, if you take the case of rice, sugar, pulses or other staple foods, people really don't know what are the brands. They will know of a high end atta – Ashirwad Atta – which they will be able to buy. But sugar or salt brands? Most of them wouldn't know. In India, the previous generation was not really brand conscious. What has happened today is that because of the prevalence of the television and media channels across the country, thanks to direct-to-home, today Indians are brand conscious and desire to have brands, but those brands are not available. This is where GrowthStory steps in and is aiming to build brands for India.
4Ps B&M: Even today, reports mention that women find it very difficult to attract venture capitalists. Is that true? If so, then what is the main reason?
KG: I don't know about the statistics but I feel that venture capitalists, as a group, as a category, do not discriminate. Statistics is a reflection of the fact that at the beginning of the funnel, there are a less number of women coming in through the system. The number of women entrepreneurs per se is small. I would attribute it more to the number of women entering and seeking venture capital as a percentage of total number of people, than to any specific discrimination. Obviously, right from representation on the board to the CXO level, in all of that, there is a disparity in the number of women.
Secondly, we should not look at entrepreneurship purely from the point of view of only venture capital funding. That is only one small sliver of entrepreneurship, even though that gets maximum media attention, front page news because of valuation, because of boom, bust and all that stuff – it gets too much attention. The real entrepreneurship [is that] 99% of entrepreneurs don't take money. So it's not that women are not entrepreneurial. VC is only one part of the reason.
Another perhaps potential reason could be the financing nature of VCs in India is mostly technology-led. They typically invest in technology firms; and again there, it becomes a question of supply. How many women technology entrepreneurs are there vis-à-vis men in terms of technology entrepreneurship? So the same disparity, you will find between a tech entrepreneur and a non-tech entrepreneur. The amount of VC funding for a non-tech entrepreneurship will be very, very low. So, I would say it's more a function of the sector and the lack of women per se rather than any bias.
Ignoring women would mean missing on 50% of the big potential candidates, which is a pity for VCs, investors as well as the startup ecosystem, by not having proportionate or at least close to proportionate representation. It's an opportunity missed for all, forget about equality or parity.