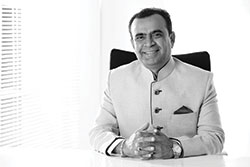 But Lakhani's experience was providing him invaluable insights into the workings of the outdoor media industry. And that's when Lakhani decided that he no more wanted to work for others and decided to branch out.
In 1990, he took up a small table space with just one office staff and started selling billboard space. Things started developing rapidly when he acquired all the railway billboard sites of one of the prime suburbs of Mumbai. By 1995, he was selling around 200 banner sites around Mumbai. That's when Lakhani decided that he needed to formalise the endeavour into a professional corporate structure. He took up a large office space at the Borivali suburb of Mumbai and kick-started his venture, Bright Advertising Agency (now known as Bright Outdoor Media Pvt. Ltd).
With an initial professional team of 25 members trained and groomed by Lakhani, Bright not only grew within Mumbai, but expanded throughout India in quick time, with offices coming up initially in Pune, Bangalore and Hyderabad, and subsequently in various other cities of India. Today, you can find Bright's headquarters in the plush commercial area of Andheri alongside offices of famous production houses like Yashraj films, T-Series and Balaji Motion Pictures etc.
Lakhani shares with 4Ps B&M that it was just pure conviction to his work that made him work relentlessly everyday to make his dream possible. Today, Lakhani is considered a visionary before his time and the godfather of the outdoor media industry, who introduced global benchmarks in outdoor media advertising and marketing. So the next time you see a billboard, check the legend at the bottom. If it says "Bright", well, take a bow...